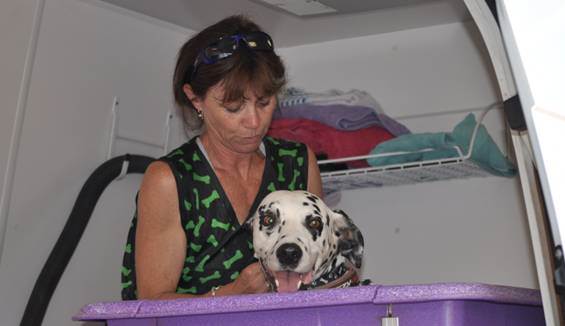 Most dog groomers I know are busy, busy, busy.
A lot of us are self employed with families and everything else but our health is a priority.
I've been grooming now for 30 years and about 16 years ago was diagnosed with Fibromyalgia, a condition with many varying symptoms, which may not be the same for everyone, but common in groomers.
It can be a debilitating condition affecting our way of life.  I believe its the way our body tells us we're burning out! You can either accept that it is caused by the physical and mental stress of our industry and do nothing or realise that we aren't fuelling our body sufficiently to repair those stresses.
Back then I had a busy mobile grooming business and ran a breeding/boarding kennel plus raising  2 teenage daughters.  Early starts and late finishes.
Coffee in hand as I walked out the door and ate little during the day as time commitments were the priority.  Dinner, club meetings, judges lectures, tending to the kids  and dogs needs (about 12 dogs at that time) filled the weeks evening time.
Then the signs: restless leg, grinding teeth during sleep (eventually needing a mouth guard ), headaches, muscle pain, numbness in hands, fatigue.  Crashing in bed and seeming to sleep heavy but waking as though I hadn't slept at all and feeling as though I'd been run over by a truck. Ugh, then the habits of being too tired, in pain, too busy…..yes they became habits, you get into a daily routine of 'why you can't ' and 'no one understands what its like'.
You think you're fatigued, therefore you can't exercise. In fact, you choose not to move, therefore you feel fatigued.
Its hard to accept at the time but its only when you decide to make the change to better your nutrition and start to exercise that progress begins.
So I was introduced to a high quality nutritional supplement that helped in the process of renewing my life. Eventually the sleep patterns improved and so did my energy, with that came the ability to consciously make better choices. The pain subsided and it then became easier to get back to feeling normal.  As time went by the old habits that I used to enjoy daily became bearable again. It took about 6 months but glad I kept going.
Adrenal Fatigue presents similar symptoms and benefit from the same treatment.
My 'take' on Fibromyalgia is that when physical and/or mental stresses are not nutritionally catered for our body can't refuel enough to sustain even our day to day activities. When the pain and fatigue takes over you can't eat enough alone to repair the body back to its normal state.